Turquoise Wayuu Mochila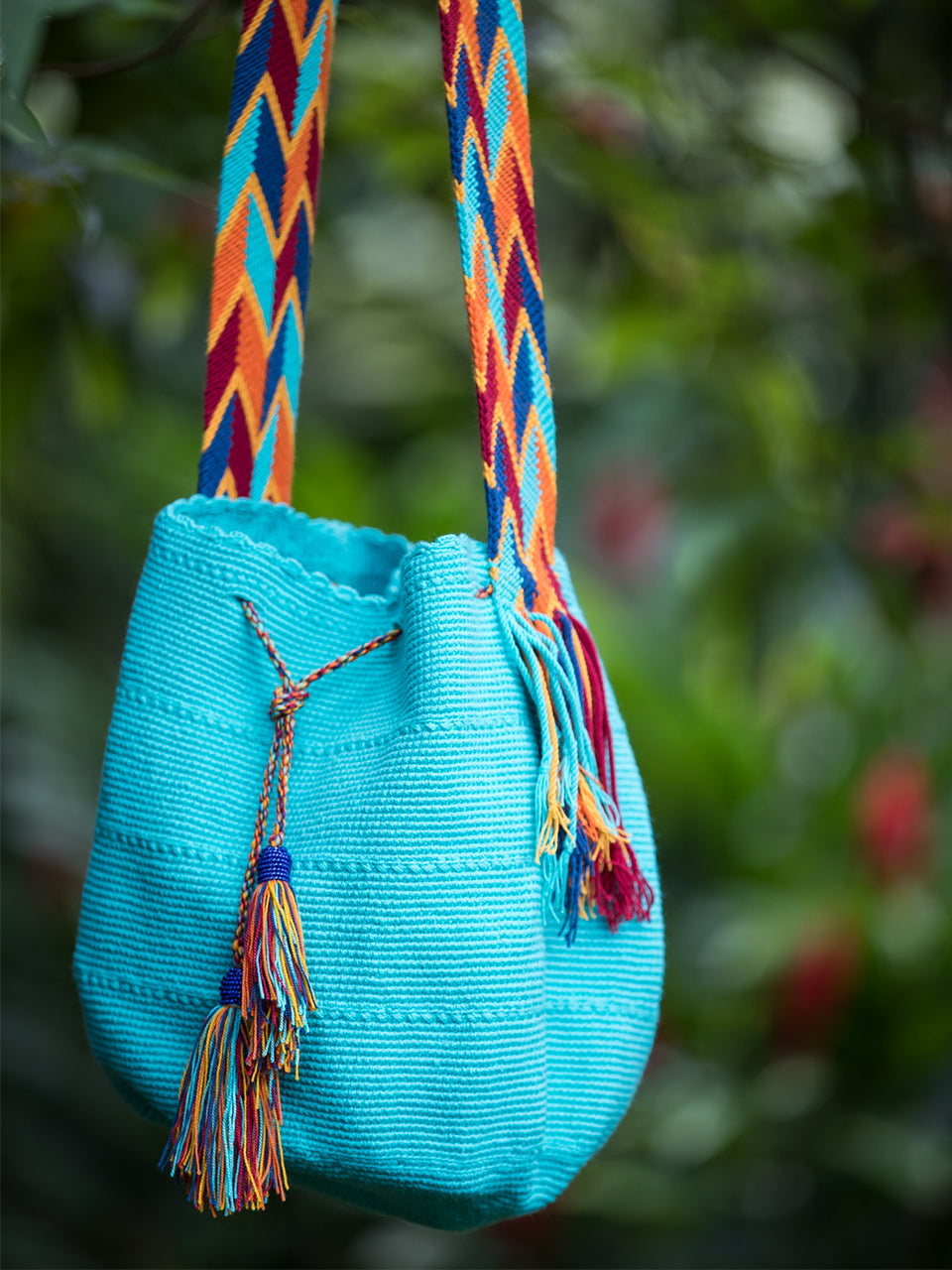 Stylish and distinctive, Mochilas are hand-woven shoulder bags, the most unique bohemian accessory. They are perfect for travelling, shopping or going out, a day at the beach or the markets. They go with everything and add a touch of the worldly traveller to any outfit. 
Mochilas are a unique symbol of Colombia, culturally significant and deeply important to the indigenous women who weave them - by hand and with love. They do so, just as their mothers' did before them and just as their daughters' will continue to do after them.
The women who weave mochilas view their art as an extension of themselves and a representation of their community. Exceptionally talented, incredibly strong and deeply proud, the Wayuu women make every weave perfect, willed by a desire to represent their best to the world. And it can be seen in the flawless work of their products.
Few travellers leave Colombia without a mochila and – although we want you to travel there and get one for yourself, in the meantime - we have decided to bring them to you!
Mochilas look amazing, they are entirely hand-woven and buying one does a whole lot of good for the world you live in! That's because mochilas are a sustainable business enterprise for the women of the Wayuu indigenous communities in Colombia's Guajira, a part of our country where life is particularly difficult. Palmazul supports women in these local communities, who are working as entrepreneurs and artisans to build livelihoods for their families and in support of their communities.
We purchase all of our mochilas under fair trade agreements, directly from the Wayuu women and then, using our platform, we share their wares with the world. Palmazul has also partnered with She-is, a non-profit foundation that empowers Colombian women who are victims of conflict, poverty and violence through peace entrepreneurship. Palmazul donates 30% of the proceeds from every mochila sale directly to She-is, in support of their mission.
Our Turquoise Wayuu Mochila features:
- Multi-coloured pattern strap
- Solid turquoise bag
- Multi-coloured tassel closure with blue beading
- Hand-woven in Colombia by indigenous artisans
- Bag Dimensions – Basket Height: 30cm, Basket Diameter: 33cm